ESPAÑA, IBIZA
Welcome to Ibiza
1

/
Lifestyle
Ibiza is an island of delightful contrasts. Cosmopolitan and worldly with a diverse mix of cultures, yet firmly grounded in its rural and hedonistic roots. Referred to many as the 'white isle', Ibiza is a seriously swish and sumptuous destination the rich and famous flock to see and be seen at.
Renowned for house music, hippies and partying, if this hedonistic side of Ibiza doesn't necessarily do it for you there is so much more to this beautiful historic island. Bustling and relaxing at the same time, it has been referred to as the 'Island of a thousand faces', with its vibrant night life and party atmosphere juxtaposed with stunning shores, crystal clear and somewhat a retreat for those looking for a spiritual destination to unwind and relax. Life is never boring for those who buy in Ibiza.
Ibiza is renowned for its clubs, big name DJ's and nightlife, especially in the late eighties and throughout the nighties. The nightclub culture is still prevalent however not as dominant as it once was. The super chilled, nonchalant attitude once reserved for sundowners at sunset is certainly the more favourable way of doing things these days. Those who are permanent residents choose sandy coves and sunrises over the super clubs. Favourite spots amongst locals are Cala Llonga, Puerto San Miguel and Santa Eulalia which all boast a more mellow side to Ibiza. A heady mix of culture and cuisine, you'll never stop exploring Ibiza and unearthing new or hidden gems.
The infamous San Antonio is legendary for its stunning sunsets but if you'd rather avoid the crowds then the enchanting Cala Salada, surrounded by pretty pines and shimmering turquoise shores should definitely be on your to-do list. Take a picnic and stay all day and watch the sunset in your own secluded setting for a slice of unique Ibizan magic. All that said, there's something rather magical about spending an evening at one of the many famous more bustling sunset establishments with a huge crowd of like-minded people. Once you've experienced sundown to a great backdrop of music (they always get the vibe exactly right) followed by whoops, cheers and applause… you will never forget it and will absolutely no doubt go back for more.
Ibiza 'old town' still offers something for those looking to get their groove on however it's a world away from supercharged San Antonio nightlife. A visit here or to the old town's 'upper slopes' of Dalt Vilais are like stepping back in time. Many people buy in Ibiza for this very reason. It's steeped cobbled streets, historic walls and tiny alleys lead to the fortress which looks over the city. Take a tour of Portal de Ses Taules where quaint cobblestone courtyards await with its dreamy Plaza de Vila.
People
During the summer months, the rich, the famous and the curious all flock to Ibiza to experience the most exclusive and legendary nightspots on the Spanish island as well as enjoying the many pristine beaches.
However, for those living in Ibiza it's all about relaxation. The phrase 'mañana!' is often thrown around in a nonchalant manner in Spain and this couldn't be more so in Ibiza. For those choosing to spoil their own soul and recharge their batteries regularly and escape the restraints that 'real life' can bring, the ideal solution is to buy in Ibiza. Yoga is frequently practised on the Island. The vibe here makes Ibiza the perfect destination to work on your body and soul with a backing track of crashing waves and nature's call. The old town also offers the more modern practises including hot pod yoga which is renown in the area.
If yoga isn't your thing then there is a strong hiking community which is getting bigger and bigger each year. Ibiza has numerous hiking trails and there is a hike for everyone. If you're feeling fit then a ramble to the highest point of the island for breath-taking views over San Antonio and the Salinas salt flats is highly recommended. There are also some truly stunning shorter hikes of around 3km along the beaches of Salinas or the countryside around San Miguel and Sa Talaia. Perfect on foot or assisted by one of the many off-road quad biking or 4×4 trips. Every day is a new adventure!
Architecture & Market
From hedonistic hippies to fully fledged fashionistas, the white island has always stood out in the style. When you think of buildings in Ibiza, it's hard to picture anything other than the whitewashed villas and shimmering shorelines. But scratch the surface and the island's colourful and ever-evolving history will be revealed.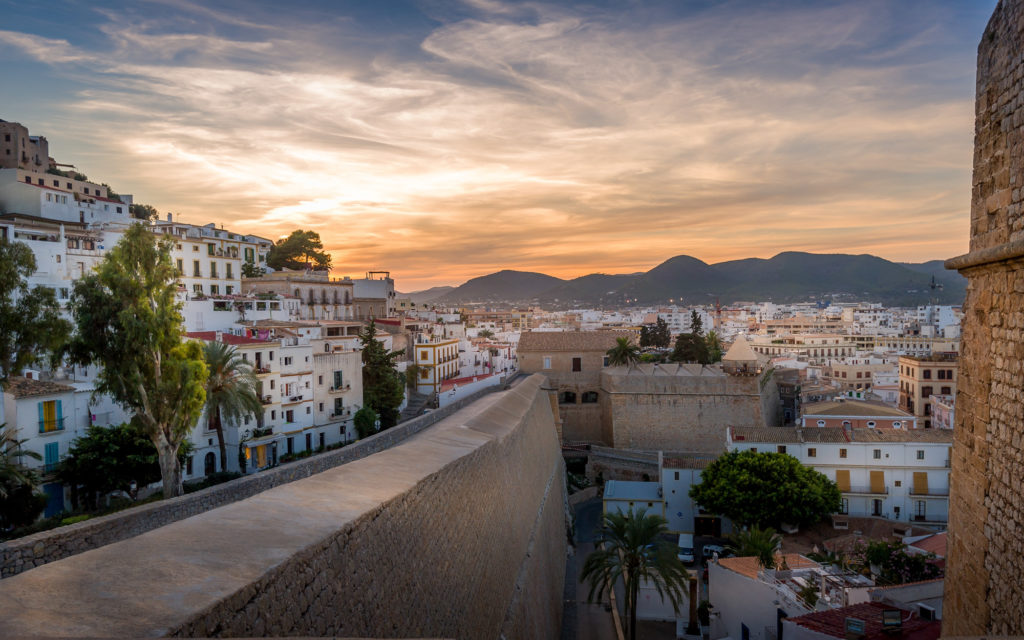 1

/
Historically the population has always been extremely diverse, which in turn has led to a multitude of styles and colours reflected in its buildings and culture. Writers, painters and poets flocked to the island in the mid 50s finding the perfect place to express themselves through what they wore and where they lived. The 1960s revolution is very prevalent within the island with visitors from San Francisco and across the world making their mark. A huge number of people from bohemian culture found roots here in the 60s and 70s, attracted to affordable housing and the rural, carefree lifestyle. Fashion trends emerged throughout this time and the island soon became awash with colours and patterns which are now reflected worldwide and also found in Highstreet stores with the tag 'Ibizan Style'.
A fantastic example of Ibizan architecture is in Puig de Missa. Visit the fortified church, part of four fortress temples that were erected in Ibiza to protect against Turkish and North African invasion. Gaze at the whitewashed walls and gush at the beautiful views of the bay of Santa Eularia. Fusing ancient masonry with contemporary style is evident in many of the properties found on the island, including features such as grand stone entrances, fireplaces, staircases, and corridors with exposed interior walls. Its classic farmhouse charm meets luxurious living – which is iconic Ibiza. Ibizan house windows are often small and uneven, and can sometimes be mistaken for being unfinished. This imperfection serves as pure function (the exterior opening wider than the interior) to maintain the temperature of the house throughout the year. Very cleverly, due to the thickness of the whitewashed walls, excessive heat is avoided in the scorching Summer months and vice versa in winter. Another Ibizan style that inspires architects and designers worldwide today.
Hotel Montesol pays homage to the past. Ibiza's first ever hotel established back in 1933, it was used by the army as a base during the Spanish Civil War. Now a listed building, its jaw-dropping (and ground-breaking at the time) yellow-and-white colonial-style facade is unmistakable. Unlike anything else in Ibiza Hotel Es Vivé in Es Figueretas is dripped in art deco design of the 1940s. It's extravagant peppermint-coloured walls are like something out of a fairy-tale.
The island still to this day attracts a wealth of different nationalities who want to buy in Ibiza. The largest buying group being from Germany, followed by Spain, France, Switzerland, and the UK. A mixture of those seek to buy homes for all year round living or for use as holiday rentals. Compared to mainland Spain, Ibizan real estate has a higher average price due to such high demand.
Experiencing Ibiza is like stepping into paradise
Julien Blot
What You Will Love
The clubbing experience in Ibiza has changed immensely in recent years, but remains the absolute 'go to' when it comes to modern house and dance music. There's also the occasional classic Trance night too which can be immense fun.
So, what isn't there to enjoy in Ibiza? It's vast fine sandy beaches and crystal-clear waters, stunning and diverse architecture, wonderous world heritage sites, hikes amongst lush and fragrant pine trees. It's like stepping into paradise.
A great place to live all year round. Nature is key on the island. Feel truly connected whilst swimming at Cala Xarraca's ultramarine waters…so blue they'd be mistaken for sapphires. Indulge in the natural mud baths and soak up their super healing properties (whilst having a whole host of fun doing so!)
The hippy handmade markets also offer endless fun and excitement for those after trinkets and keepsakes and that something a 'little bit different'. The biggest markets are the Punta Arabí on Wednesday in Es Caná and the Las Dalias Hippy Market on Saturday in San Carlos. Sant Jordi market is also held every Saturday at the area's Hippodrome. Don't be surprised if percussionists get together with their bongos and drums in the stands of the hippodrome with impromptu musical performances to add to the vibe.
The inner part of Ibiza is a rare treat that not many people get to visit, mainly due to not knowing the island well, but if you really want to experience a true 'get away from it all', do not neglect this part of the island. Early Spring is the time to enjoy the absolutely stunning almond trees blossom. With its own myths and legends surrounding the countryside and how the trees came to be planted there…you won't regret it.
Food Culture
1

/
Ibizan food draws on the island's rich history and diverse culture to produce cuisine which is sure to suit all tastes, ages and budgets. As well as your typical tapas and paella dishes, Ibiza is fast making its mark on the culinary map.
With many decorated chefs both working and living on the island coupled with travellers from across the globe, its own Balearic style of food has emerged over the last few years. For the main courses, dishes are made using fresh locally sourced produce. Ibicencos dishes like 'Bullit de peixa' traditional Ibizan fish stew and 'sofrit pages' (its meat counterpart) can be enjoyed in many of the island's finest eateries. For the sweet-toothed there's 'greixonera' an Ibizan twist on the traditional bread and butter pudding.
Items to look out for include 'Sobrassada', the national sausage of the island, made from ground pork, paprika and other spices. 'Hierbas Ibicencas' is an herbal liqueur made in Ibiza with a variety of herbs and botanicals native to the island. It's sold to you as a digestif after lunch or dinner although we're unsure of its effectiveness! Many families have their own 'special' recipe that has been passed down the generations.
VIEW OUR PROPERTIES