ESPAÑA, COSTA BLANCA
Welcome to Javea
1

/
Lifestyle
There's a saying in Jávea: Once you've lived within the eye of its famous Montgo mountain, you'll never leave. It's hard to see why you'd ever want to. Known as the 'Jewel of the Costa Blanca,' Jávea is prettier than any postcard with it's shimmering turquoise shores.
Jávea's diversity, for its size, is incredible. It's three main areas offer breath-taking views; incredible gastronomy; pure tranquility and relaxation whether you're choosing to live or stay a while or are simply visiting for a short break and seeking some uncomplicated fun in the sun!
The historic old town is a beautiful place with a rich heritage waiting to surprise you. Filled with breath-taking architecture and spellbinding stories that ancient civilizations, passing through the town, have left over the centuries. Wander the pretty cobbled streets; take in the traditional architecture with Tosca stone and sample some of the finest tapas in town. Marvel at the glorious Gothic architecture of the Iglesia de San Bartolomé, built as a safeguard in case of pirate attacks and the Museo Histórico y Etnológico, located in Casa-Palacio de Antonio Banyuls, which houses historical artefacts found right here on Jávea's coastlines.
Jávea's Port area is becoming increasingly popular for both buyers and visitors alike. The Port is full of independent shops, bars and restaurants; it's seen some redevelopment over the past two years. Its hidden back streets are now alive with visitors who prefer a more relaxed pace to the neighbouring Arenal. Here, you'll find a marina packed with pretty fishing boats and a small quaint fish market, selling the daily catch, overlooking La Grava beach. For early risers, a favourite sight of ours (and one famous amongst locals) is the flock of seabirds that swarm the fishing boats returning to port, at approximately 8am each morning, in the hope of a feed. Stroll the stunning promenade sprinkled with palm trees and artisan markets stalls, and enjoy both sunrise and sunset views in any of its charming bars and restaurants dotted along the stunning seaside walkway. The charm of the neighbourhood doesn't stop there. The exuberantly modernist Church of Our Lady of Loreto. Inaugurated in 1967, is a spectacular piece of modern architecture dedicated to the fishermen of the town.
Walk south a couple of kilometres along the beach promenade and you come to the third part of Jávea, the Arenal: The main tourist hotspot and the busiest of Jávea's beaches. The lone sandy beach in the centre of the town, it's full of colour and life. Perfect for lounging around and feeling the sand between your toes amongst the buzz of the nearby restaurants and cocktail bars which are open from sunrise until well into the early hours of the morning in Summer. A relaxed bohemian vibe infuses many of the eateries on the promenade and tiny-yet-bustling market stalls poke out between these cafes, restaurants and ice cream parlours. If you're after entertainment then there's plenty. For the more intrepid, there's every water sport imaginable; in most venues live music can be found accompanying the evening meals. Beside the beach lies one of the oldest hotels in Jávea: The Parador de Jávea.
People
There is an enormous sense of pride amongst the people that both live and visit Jávea with many wanting to keep this hidden gem a secret but equally gushing with excitement to visitors and guests. The population of Jávea, which has more than tripled since the 1970s, has grown out rather than up.
The area is truly a melting pot of nationalities from all across Europe. There is an enormous sense of community on display in Jávea through church events, fiestas, schools and sports teams, in addition to the dozens of small bars and cafés and echoed by the numerous charities helping local causes and concerns.
Architecture & Market
One of the things that contribute to the unspoilt splendour of Jávea is its high-rise building ban. In the 1960s, the town imposed building restrictions: Nothing taller than a palm tree goes the local story. In the town plan, words such as "sustainability" and "environment" figure prominently.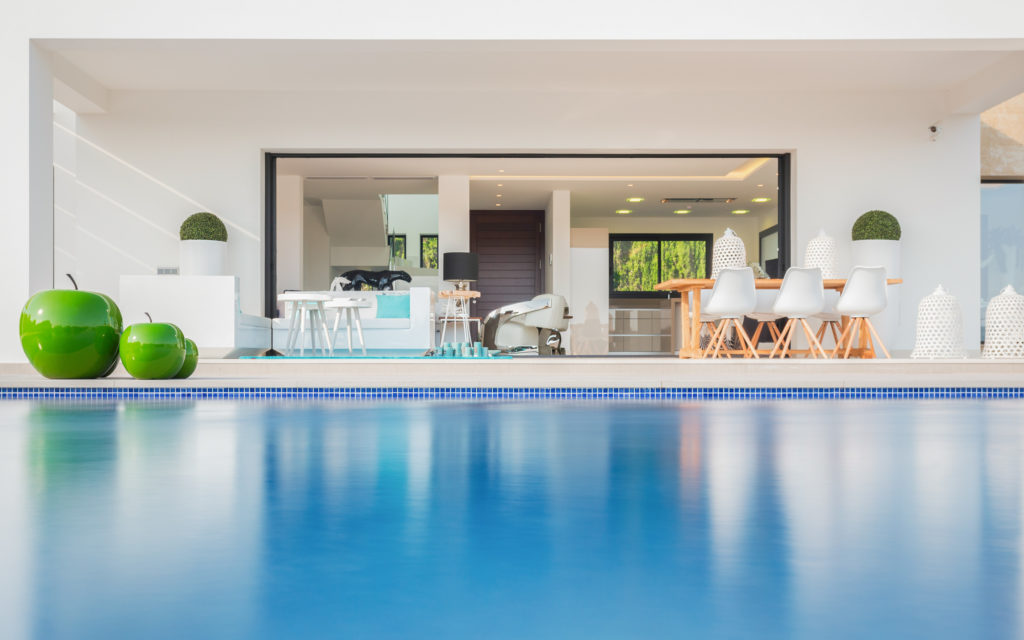 1

/
The landmark of the old town is undoubtedly the 14th to 16th century Church of St. Barthomolew (Iglesia de San Bartolomé), which is a fine example of Isabelline Gothic architecture. However, there are a number of other interesting buildings to be seen.
The area is painted with spas, hiking, biking trails and a vast natural park of more than 2,100 hectares on the famous Montgo mountain, an emblematic elephant-shaped mountain standing 753 metres tall. Around its slopes are prehistoric cave paintings and burial chambers to explore.
Jávea's horseshoe-shaped bay is also packed with coves, sea caves, cliffs and both pebbled and sandy beaches. There are hundreds of routes to explore on foot, by bike or by sea. Then there are the miradors of Jávea.
A network of 15 designated viewpoints located along the wonderful coastline: Each providing its own unforgettable view of the stunning town.
Like stepping into a paradise you'll never want to leave
Stella Kooij
What You Will Love
With its beautiful coast, crystal clear azure blue water and surrounding mountains, Jávea boasts some of the cleanest air in Spain. In fact, according to the World Health Organization, it has one of the healthiest year round climates in the world. The villas, apartments and property in the area benefit from this unique climate and laid back atmosphere.
The spectacular landscape is calm, elegant and provides an incredibly relaxing atmosphere. With daily yoga classes and meditation sessions on the beach, it really is a spiritual place that lends itself to those in search of calm and tranquillity. Jávea also enjoys more hours of sun than any other place in Spain. Less relaxing but equally exhilarating is 'The Fiesta.' An essential element of Spanish culture, the Spanish people simply wouldn't be who they are without it.
Jávea is no exception when it comes to Fiesta fun and display an irrepressible enthusiasm to party with some incredible celebrations throughout the year. Don't be surprised if you wake to unexpected fireworks, bangers or parades in the morning through the narrow streets of the historic centre to mark the beginning of one of Jávea's many celebrations.
Spanish impressionist painter Joaquin Sorolla wrote to his wife when he visited Jávea: "I fall silent from the emotion that still grips me …" he wrote. And: "This is the place I've always dreamt about, Sea and Mountains, but what a sea!" Sorolla returned to Jávea three more times, painting more than a dozen major works here.
So, what will you love about Jávea? The incredible sunrises? The friendly local people? The crystal clear waters, fantastic food, romantic coves, beautiful beaches and wonderful scenery? There's no one thing you can pick from such a vast list and, as we remind you, legend has it that once you've been within the eye of it's famous Montgo…you'll always return.
Food Culture
Jávea boasts an incredible amount of stunning restaurants and eateries. You really are spoilt for choice. From Michelin star restaurants to street food fiestas. The diversity of culture found in Jávea is mirrored in the cuisine on offer.
1

/
From vegan and Asian, Nepalese, Thai, Indian, and Chinese to more traditional tapas and European dishes. Here's a few of our favourite eateries you may want to experience:
Cala Bandida is a place of pure tranquility and beauty offering some of the most stunning views in Jávea. Whether you choose to dine at sunrise for one of their healthy and hearty breakfasts; lunch by the crystal-blue sea with friends or an evening of fine food and wine and spectacular sunsets, be assured, it will be delicious and made from top quality local produce. Located in Jávea port in front of the fish market with easy access and free parking.
Located on Jáveas Arenal La Fontana is one of the oldest restaurants in Jávea. Serving Traditional Mediterranean cuisine since 1963, this family run business spans several generations and specialises in traditional Valencian dishes, Paella and fideuà. This light, bright and spacious restaurant faces the stunning sandy beach and is perfect for families and large groups. Their ever-changing menu means there is always something for everyone.
A vision in white and blue, La Siesta all-day beach club has all the magical ingredients Javea has to offer. As well as the great food and wine, you'll fall in love with the bohemian design aesthetics and turquoise blue sea-setting.
A makeshift beach lies underneath stylish sun loungers, wicker lamp shades and oversized straw umbrellas and the all-day house beats and open plan venue is perfect if you want to relax, party or simply sip sangria into the evening.
VIEW OUR PROPERTIES