ESPAÑA, COSTA BLANCA
Welcome to Calpe
1

/
Lifestyle
Calpe is a fine example of a modern-day tourist destination that has something for everyone. Whether it's ancient ruins or a funky bar, this incredible city by the rock is truly a gem to buy in.
Famous for its rather large and unmistakable 'Penon de Ifach' scaling a rather breath-taking 332m. Its rugged figure can be seen for miles upon the Costa Blanca coast and is the beacon of this beautiful town. Once a small fishing village Calpe has grown in both size and offering. Its stunning blue flag sandy beaches are perfect for accommodating the tourists that flock for the stunning scenery and lively bars and restaurants.
The harbour can be found just next to the Penon de Ifach rock, where you can enjoy the hustle and bustle of the traditional fish market. It's not just those on foot that choose Calpe as their Summer stop off. Over 300 Flamingos visit to cool their feet in salt flats. The stunning salt flats are a protected area and are home to an array of birds and wildlife throughout the year.
The town centre itself is bursting with history. Visit the 15th century Iglesia Antigua church within the towns walls which were built as a defence from invading pirates! Archaeological sites from both Roman, Arab and Iberian invasions can also be found including the ancient Roman baths 'Els Banys de la Reina' (queens' baths).
The way of life here is still buzzing and sociable, what you'd expect from a town of its size however dare we say it's a little more upmarket from its popular stag and hen party sister, Benidorm. At first glance Calpe is comparable with its tall buildings and bustling almost city like vibe. The people here like the sun and sea but still crave after a little bit of sublime city living and nightlife action. Calpe has many upmarket resorts and most of its hotels have four or five stars. The town's skyline is dominated by Peñón de Ifach, which has two bays either side of it.
To the south is Playa Arenal, and Calpe old town and to the north is Playa Levante, the more modern, tourist area. Life in Calpe is certainly a very active one. If you're not enjoying the socialising that it's many hundreds of eateries offer then you will most definitely be trying your hand at a water-based activity or two! Paddle boarding, surfing, snorkelling, windsurfing and even sailing are all hugely popular – skipper your own boat and sail your way around the bay.
Calpe is home to four diving schools for those wanting an underwater experience. Immerse yourself underwater with one of the many dive teams that will show you the underwater treasures the Ifach hides.
People
The population in Calpe is around 21,000, a figure that can triple in the peak seasons. With the ex-pat population growing year on year you can expect a diverse mix of both cultures and languages who buy in Calpe.
At last count, official figures revealed that foreigners accounted for 61% of the town's population. Whilst a vast majority are from England and Germany, there was also a notable increase in the Romanian and Dutch dwellers. Calpe is perfect for families, couples and pensioners alike. Its appeal is broad and you can find fun and excitement of roller skaters, cafes, and artists, or peace and tranquillity of the old town and sangria sippers on the beach – depending on your preference.
Being one of the bigger towns on the Costa Blanca, Calpe is renowned for some spectacular fiestas throughout the calendar year. From the arrival of the three kings in January to the incredible Moors and Christians and the more modern addition but hugely popular Calpe Oktoberfest.
Unlike neighbouring hotspots Javea and Denia, Calpe is easily accessible and just a short drive from the Autopista and under an hour commute from Alicante Airport. The people who live here love the superb mix of ancient Spain meets modern city. If you're looking to settle in Spain but feel like a complete submersion in Spanish culture may be a little too much then Calpe has it all. Supermarkets area plentiful and close by is one of the area's largest shopping centres, La Marina. Saturday mornings can either be spent shopping or snorkelling at the foot of the Ifach amongst ancient Roman Baths!
There's a huge amount of social stuff going on too. From the famous footlight's theatre group, to bridge and gymnastics clubs. If you are not looking to retire just yet, Calpe is a great place to get to know different people and business owners if you are looking for work.
Not only does the size of Calpe lend itself to more opportunity, the ease of commuting to nearby Benidorm and Alicante can mean that your prospects are increased when looking to find work. Speaking Spanish here is not mandatory and you will be able to get by, however the diversity of its inhabitants may mean you pick up Spanish, German and maybe even some Russian whilst going about your day-to-day!
Architecture & Market
Three of the most famous buildings in Calpe were designed by famous Spanish Architect Ricardo Bofill. His most striking and favoured by 'influencers' and Instagram fans alike is La Muralla Roja.
1

/
Taking the form of a fortress, the 'red walls' both compliment and contrast with its surrounding Manzanera natural park. Dating back to 1972, the configuration of the building is astounding with a nod to its Arabic past with free-flowing passages, terraces, staircases and patios. Many people try to buy in Calpe to live here but the apartments are in very high demand due to their architectural status.
Before this remarkable building, Mr Bofill constructed a labour of love called Xanadu between 1966 and 1968. Extremely experimental for its time Xanadu looks like something out of Transylvania. It's green, castle like structure consists of 18 apartments which were intended to be holiday homes. Each unit is composed of three cube-like designs, one for living space, another for sleeping, and the third for utilities. It's unique 1960's facade can still be seen and stayed in today!
During the 1980s Ricardo Bofill then moved on to one of his most stunning pieces of work, 'El Anfiteatro' which is located on the top of a cliff with incredible views of the sea and the Peñón de Ifach.
Another architectural marvel is the Calpe Castle, a late 16th-century watchtower built to defend against Berber pirates. It can be accessed by a short climb on the mountain side of Calpe. Part of the appeal of the Calpe, along with its beautiful, golden beaches, splendid golf, shopping centres, water-sports and wealth of activities on offer – is the great value for money buyers are getting. Housing prices along the coast have been rising over the past five years and investors who buy in Calpe have prospered.
This incredible city by the rock is a true gem
Mark Sims
What You Will Love
A day trip to the mountains is a must when staying in Calpe. After driving just a few minutes out of town the high-rise luxury hotels give way to lush valleys of orange and lemon groves. There are some spectacular walking treks. The Sierra de Oltá is a popular hike. At its highest elevation it reaches 588 meters above sea level. Offering spectacular viewpoints of the coast of the Marina, from Serra Gelada to the Montgó, as well as the nearby Sierra de Bernia.
Just a short drive are the Les Fonts de l'Algar waterfalls cascading down the rocks into natural pools. Enjoy the cool crisp waters and botanical gardens. Treat yourself to the local produce on offer such as honey and nispero, the delicious yellow fruit grown here by the locals.
The Torre Moli del Morello is an 18th-century flour mill and watchtower. It is located at the Pobla d'Ifach of Calpe and was built in the 1300s. It was once used to protect the city from pirates. Another architectural marvel is the Calpe Castle, a late 16th-century, again built to protect against those pesky pirates!
Lastly you can't buy in Calpe without climbing the famous 'rock' the Ifach. Climbers range from fun-seekers to the highly experienced. The route can get a little hairy at times, so those with a nervous disposition of heights or health problems may be advised to buy the postcard. However, the view from the top makes the nearly two-hour hike simply worth it and on clear days, even Ibiza can be seen.
Food Culture
Calpe is swiftly becoming something of a foodie heaven bursting with its superb seafood restaurants, and famous Mediterranean dishes including paella complimented by fresh sangria.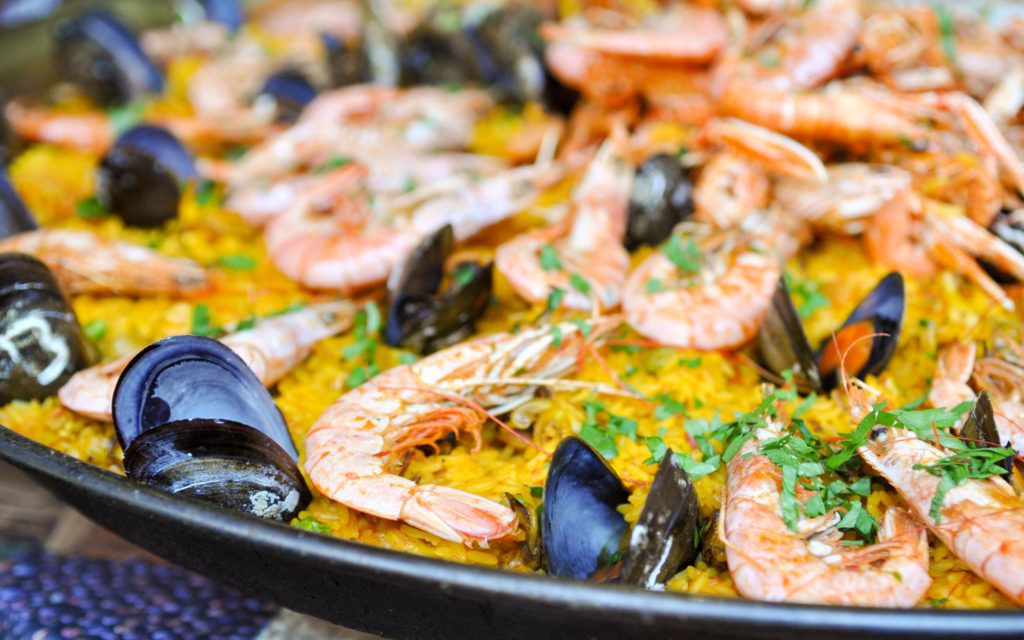 1

/
You can find some fine, family-run examples. If rustic is what you're after expect home-made pastries and deserts like the Jijona ice-cream made from the famous Alicante almonds.
The old town has many fine more traditional eateries, like Salsa's Tapas Bar, who serve Mediterranean, Spanish, and a variety of international dishes. Home to live music and a vibrant atmosphere to drink and dance the night away.
La Viña de Calpe, is a favourite amongst locals. It has a subtle elegance perfect for couples, or if you're on a budget, the fantastic Resto-Bar Tu cannot be beaten for their exquisite tapas. In contrast, with its sublime and modern twist, Audrey's has become a figurehead in fine dining in the area. Head chef Rafa Soler Atanet can be considered one of the main national representatives of haute cuisine.
We also recommend you pay Suptopia sky bar a visit. With unrivalled views of Calpe which will take your breath away reaching far across the Costa Blanca. Sip sublime cocktails and champagne here surrounded by the sea and the stars for an absolutely magical evening.
VIEW OUR PROPERTIES